Alloy Rolled Rings
Alloy Steel is steel containing additional alloying elements other than carbon to enhance physical & mechanical properties and/or heat treat response.
Alloying elements produce steel with enhanced strength and fatigue resistance.
Commonly used for Gear & Bearing applications along with a variety of industrial equipment applications.
---
ADVANTAGES OF ALLOY ROLLED RINGS:
NO INVENTORY
No need to stock plate in various thicknesses.
NO WASTE
No drops of expensive plate.
LESS COST
Eliminate costly handling, layout and production time.
SUPERIOR QUALITY
Rolled rings provide superior structural integrity by forging the ring's grain direction in a radial pattern.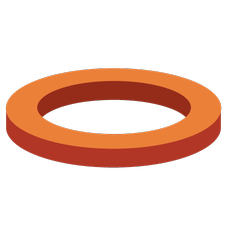 ALLOY
3310
4820H
NiCrMoV
3311
8620H
H-13
3312
8630
HY-80
4130
8822H
HY-100
4140
9310
4145
ASTM A182 F5
4150
ASTM A182 F9
4170
ASTM A182 F11
4320
ASTM A182 F22
4340
Cr-Mo-V