Carbon Rolled Rings
Carbon Steel is steel that contains up to 1.2% carbon where other elements are present in quantities too small to impact properties.
Commonly used for structural & pressure vessel applications.
Consider Seamless Rolled Ring Forgings as an alternative to specifications ASTM A516, A36, A106.
---
ADVANTAGES OF CARBON ROLLED RINGS:
NO INVENTORY
No need to stock pate in various thicknesses.
NO WASTE
No drops of expensive plate.
LESS COST
Eliminate costly handling, layout and production time.
SUPERIOR QUALITY
Rolled rings provide superior structural integrity by forging the ring's grain direction in a radial pattern.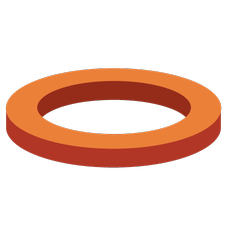 CARBON
1010
1070
1018
155
1020
ASTM A105
1022
ASTM A181 CL70
1029
ASTM A350 LF2
1030
ASTM A350 LF6
1035
ASTM A266 CL2
1040
ASTM A266 CL4
1045
ASTM A694
1050
ASTM A707 L2