Stainless Rolled Rings
Stainless Steels are steels that are corrosion & heat resistant and contain a minimum of 10% to 12% Chromium along with other alloying elements.
Commonly used for Food & Chemical processing applications.
Consider Seamless Rolled Ring Forgings as an alternative to ASTM A276 & A240.
---
ADVANTAGES OF STAINLESS ROLLED RINGS:
NO INVENTORY
No need to stock plate in various thicknesses.
NO WASTE
No drops of expensive plate.
LESS COST
Eliminate costly handling, layout and production time.
SUPERIOR QUALITY
Rolled rings provide superior structural integrity by forging the ring's grain direction in a radial pattern.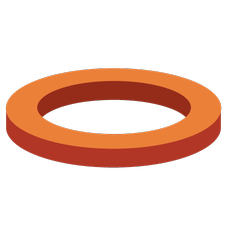 STAINLESS
300 SERIES
400 SERIES
Duplex